The Soundboard for Trumptastic quotes
Trumpisms is about Donald Trump. Love or hate him, the billionaire political candidate has hit a nerve with Americans. His political speeches lack the control and polish of his rivals, and that seems to be a feature that attracts people to his speeches. His statements are politically incorrect, on the edge of brash, and sometimes insulting, with the effect of driving candidates to a verbal brawl.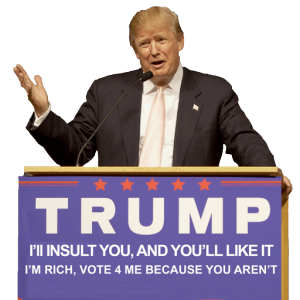 The Trumpisms app is simply a collection of quotes by public figure, Donald Trump. The quotes span his views and statements on topics like NAFTA, the Pope, Megyn from Fox News, Marco Rubio's finances, Ted Cruz's lack of friends, how rich Donald Trump is, how he can shoot people and not lose support, and more.
Truly the best and most fun collection of Donald Trump quotes, the app represents hours of work that provides a convenient app for playing, replaying, and surprising friends with what Donald Trump has dared to say.
The app and the image are reminders of the incredible statements that imply that he could do anything and his poll numbers could go up. You are invited to try the app and judge for yourself.
* The app is designed as a soundboard that represents many hours of collecting and editing sound files for your pleasure. There is nothing proprietary in the app, as it is offered as a fee only to cover the time and energy of collecting the quotes, cleaning the audio, and building the app.